Adopt a Horse!
The cost of hay, feed, farrier, shavings, medicine and veterinarian care per year is approximately $2,885.00 per horse. We will recognize the sponsors in our quarterly Newsletter, on our Website, plus a plaque will be hung by the horse's stall with the name of the sponsor engraved. You can also make donations in any amount to help support them.
How to Adopt
All donations are Tax Deductible!
Mail a check payable to The Saddle Light Center to:
The Saddle Light Center – Adopt a Horse
17530 Old Evans Rd, Selma, TX 78154.
OR
PayPal – The safer, easier way to pay online!
Meet Our Horses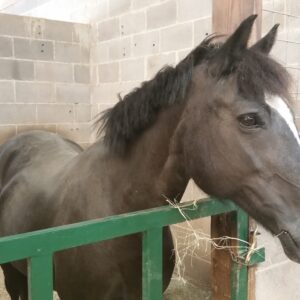 Bunny
Click to Sponsor this Horse:
A special welcome to one of our newest horses, Bunny! She is a beauty on loan to us from Carrie Lamoreaux, along with her best buddy, Beau. Bunny is a black 13 hand Welsh pony mare that was born in 1998. She has done everything: 4H, Dressage, Jumping, trails, parades and birthday parties. Her talents also include raising a 3-year-old girl who now is in college.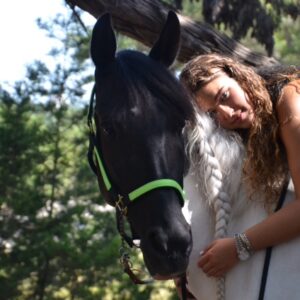 Tanzi
Click to Sponsor this Horse:
The Arthur family purchased Tanzi, a registered Tenneessee Walker, seven years ago when she was only a year and a half old. Given to Katrina Arthur as a Christmas present, Tanzi was loved on until she was ready to ride. She was trained by Stephanie Mcglothlin and Katrina with the fundamentals of natural horsemanship. "I was taught to listen to the horse and learned how to communicate with her through body language," said Katrina. Tanzi was never trained with a bit and saddle; she was raised with just a halter and a bareback pad. By riding bareback, Tanzi was taught cues with seat and legs to transition gaits and many other maneuvers. Tanzi is a very loving and calm horse and has handled riders as young as 3 years of age. Katrina worked with her and after a year and a half the duo rode at state and national drill competitions with the Unbridled Spirit Drill Team. Katrina now rides Tanzi for the simple enjoyment and pleasure of riding a horse. When Katrina left for college, she wanted Tanzi to be somewhere where she would be loved. "Tanzi is the most special thing in my life. By bringing here to the Saddle Light Center, I hope that she will be as special to her riders and make a connection with them, just like she did with me," said Katrina.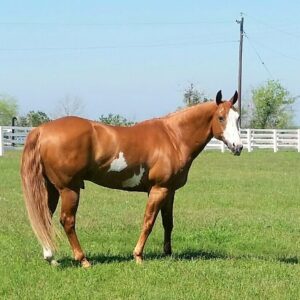 Nike
Click to Sponsor this Horse:
Nike is a top Western Pleasure stallion born in Hastings, Minnesota. He was a Youth horse who helped win many state titles in APHO and Pinto registry. He is a very friendly horse and has a very calm temperament. Nike is the type of horse that you can show one day and go trail riding on the next. The owner did not want him to go to just any owner, and asked the Saddle Light Center if he might be a good fit for the program. She hopes he provides many years of joy to the riders, just as he did for her.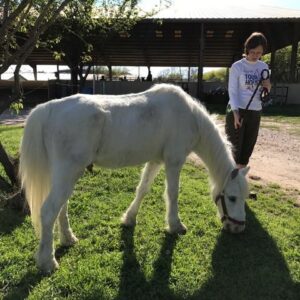 Max
Click to Sponsor this Horse:
Our new pony arrived on Monday, March 13th Max is a Welsh-type pony who is in his early twenties and retired from giving pony rides. He will be job sharing with Sonny D for our younger and smaller riders.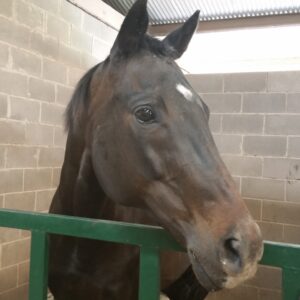 Beau
Click to Sponsor this Horse:
A special welcome to one of our newest horses, Beau. He is on loan to us from Carrie Lamoreaux. Beau was born in 2004 and is a 16.2 hands OTTB (off the track thoroughbred). He had a rough start with his racing career. He was abused, injured while racing, abandoned at the track barn and was headed to slaughter when he was rescued. Carrie worked with him for over a year, re-establishing trust and putting some weight on him. She took him to a couple of schooling dressage shows and he began a different career. Welcome Beau! You are wanted and needed in this program.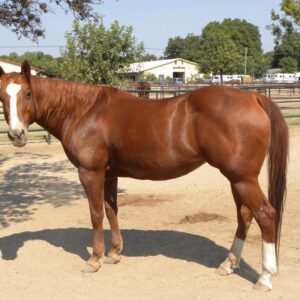 Sydni
Click to Sponsor this Horse:
Sydni is a 16 year old grade paint mare who joined our herd in September 2014.  She came to us from Marcos Stables in San Antonio, where she had been recently outgrown by her young owner after several years of English riding and jumping.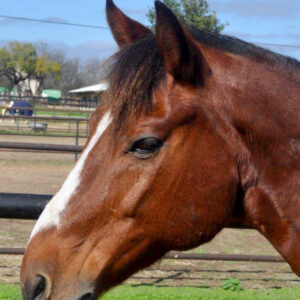 King
Click to Sponsor this Horse:
King was born 1993 and used for Mexican rodeos and trail riding. He is a Quarter Horse type but not registered. Current owner bought King when he was 5 and used him for trail riding. She used King as a lead line mount for her nephew for the last 12 years. That nephew is now a Saddle Light Center client and King has come to join him in the program.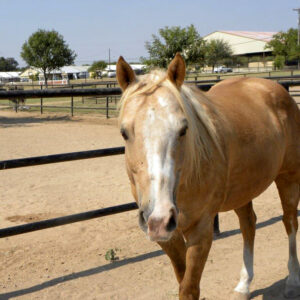 Kai
Click to Sponsor this Horse:
Kai  Otoes Yella Kai (Kai) is a Registered Palomino Quarter Horse from a long line of winning Palomino and Roan Performance Quarter Horses. Kai was born in Missouri 05/28/2003, and came to San Antonio in 2005 after being purchased as a barrel racing prospect and trail horse. After five years as a Western Pleasure and Trail Horse, Kai joined The Saddle Light Center in August 2011. His smooth gait, calm personality, and love of people make him an excellent match for his future as a therapy horse.
Cinnamon
Click to Sponsor this Horse:
Cinnamon is a Quarter Horse born in 2000.  He loves coffee and sodas, so watch your mugs and cans!  He is very gentle and willing to try new things…pom-poms and plastic bags – not a problem.  He was one year old the first time he was touched by a human and within an hour he was leading and behaving like he had always been around people.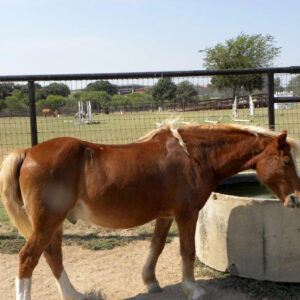 Sonny D
Click to Sponsor this Horse:
Sonny D, a Welsh pony born in 2001 on loan to us from our former barn manager, Lori Hutchinson.  Everyone probably has seen Sunny D's bright face peeking out as they walk by his stall.  The Center needs a pony of Sunny's size specifically to help those children just beginning ride on their own and those requiring a little more help from the side walkers.  We are happy to have Sunny D join our horsey team.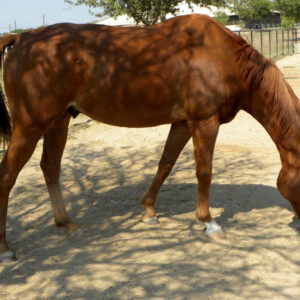 Mr. Cool
Click to Sponsor this Horse:
Mr. Cool is a very unusual sorrel born in 1997 Thoroughbred who joined the Saddle Light Center in August 2002. Originally destined for the racetrack, Mr. Cool had other ideas about a fast-track career path. After an alternate stint as a jumper, Mr. Cool landed with us and has finally found his calling. Mr. Cool loves being around people and being the center of attention. He's very gentle and patient with his riders and their equipment, which is very unusual for such a young horse. We know he's happy and relaxed when he walks around with his ears out sideways, bouncing just a little when he walks. Now that's a happy horse! We're very glad he didn't get all excited about racing or jumping – he knew there was a better career out there for a good-looking' guy with natural talent.